The Fremont Troll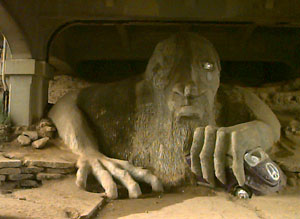 Lurking under the north end of the Aurora Avenue bridge is one of the most popular art pieces in Seattle. It is the Fremont Troll.
Yes, thats right, a Troll.
People love the troll. Some come to gawk, some to ask the Troll questions, others to hang out and enjoy the interactions that happen with other visitors who come to see the Troll. It is a relaxing place to visit.
Despite the fact that it has a taste for Volkswagen Beetles, the Troll is very well loved even by Volkswagen owners. It keeps a watch over much of Fremont. Few things happen without the Troll finding out.
Once a year the Troll is a host to an artistic party every October 31st called Trollaween. The party starts at the Troll and winds its way down to the heart of the Fremont. Along the way artistic installations, fire puppets and performance art pieces, many which involve the use of fire in the performance, are set up for all to enjoy.
This party is designed to give the residents of Seattle a party that is more community oriented than a typical Halloween celebrations. The event draws thousands of people every year and continues to grow in popularity.
The Troll always loves visitors and welcomes you at any time on any day of the year. The Troll can usually be found on the north end of the Aurora Avenue Bridge (also known as the George Washington on some maps), not the smaller Fremont Bridge just to the west side of the bridge. If arriving by car, drive north on Aurora Avenue and take the first exit at the north end of the bridge. Head off to the right and turn right on the first street you come to. Head south one block to the next intersection and take a right. The Troll will be seen on the right side of the road directly under the bridge. If the Troll is not there, wait patiently and the Troll will return. If you get lost, ask anyone where you can find the Troll. They will be happy to give you directions.
Feel free to leave flowers, but please keep the Troll looking beautiful and respect the Troll. After all, they are known to eat people.